December 16th 2018 – March 3rd 2019
Hannah Weinberger
When Time Lies
Opening: Sunday, December 16th, 11 am
Hannah Weinberger (* 1988, lives in Basel) works mainly with video, performance and above all sound. Her productions often transcend beyond classical exhibition formats. When Time Lies transforms the Villa Merkel into a walk-in sound space. Noises recorded during the construction, opening or running of the project, in and in front of the building, are transformed into ever new compositional structures by an algorithm. Whenever you visit the exhibition house, there are always new soundscapes.
Hannah Weinberger's artistic practice often focuses on almost random, sometimes marginal sounds that accompany us in our everyday lives and are, for example, the result of social gatherings.
Her works and installations are created in close reflection of the contexts which determine them. Again and again they enable new references to be made between the work and the audience. Thus they blur the roles of visitor and performer, reminding us that manifold relationships determine our everyday life with its social realities. Hannah Weinberger succeeds in creating impressive atmospheres that oscillate between familiarity and the spirit of discovery. The question of how images and sounds accumulate into memories in a medially overhauled world and how they inscribe and trigger memories is also always at the centre of attention. With the generous support of Schweizer Kulturstiftung Pro Helvetia.
---
November 14th – Novmember 25th 2018
VEHEMENT!
Präsentation der Meisterschüler/-innen des Weißenhof-Programms der Staatlichen Akademie der Bildenden Künste Stuttgart


Havin Al-Sindy, Ferhat Ayne, Anna-Elisabeth Frick, Claudia Gienger, Shana Levy, Jan-Hendrik Pelz und Hiroki Tsukiyama

Opening: Tuesday, November, 13th 2018, 7 pm
---
June 24th – August 19th, 2018
Pauline Bastard – Bilder der Welt
Opening: Sunday, June 24th, 11 am



Pauline Bastard pursues interdisciplinary approaches, works with time-based media and creates works in the form of long-term projects and their transformations into crossover installations. Her solo exhibition on the imposing ground floor of the Villa Merkel will focus on the latest projects of the artist.
Her working practice and especially her approach presented in an exemplary manner in the project Alex realized during 2015-2016, which can be seen as a predecessor to her current project Building Family Ties. Alex is a fictional person who was brought to life by Pauline Bastard for one year. Together with qualified experts from different fields such as philosophy, anthropology or even state institutions, the artist developed strategies for endowing a fictional figure with an identity. Step by step, Alex received a passport, a bank account, an apartment and something like an identity – although the person embodying Alex already had an existence under a different name.
With the generous support by
Bureau des arts plastiques des Institut francais und des französischen Ministeriums für Kultur
Alex embodies something like an ideal sleeper poised along the fault lines of our society and its promise of security. Moreover, the project offers a brilliant example for the meaning of subversive strategies as an instrument for self-assertion in relation to repressive systems.

Building Family Ties is about the founding of a fictional family. Once a year, they gather to spend a week of vacation together at the French town La Seyne-sur-Mer. The project is designed to have an open temporal end and is thought as a time for collective thinking regarding the place each individual occupies, a dialogue between the visions of the different members that compose the family. Pauline Bastard temporarily accompanies this family, documents the forms of getting acquainted, curious emotional approaches among the subject group, moments of insecurity, of searching and trying or attempting stereotypical suggestions of a family life in photos and moving images.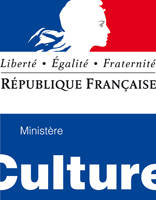 ---
June 25th – August 19th, 2018
Marcus Weber – KRAZY DOG MOON KAT
Opening: Sunday, June 25th, 11 am

The exhibition on the first floor of the Villa Merkel shows the paintings of the Berlin based painter Marcus Weber which, in its richness, is the first institutional show of its kind. They are narrative, tongue-in-cheek paintings which offer allusive group portraits, urban landscapes, grotesque restatements of social structures or exaggerated individuality.

Painterly refinement flares up in his paintings. Some read them as Capricho, desolate and romantic at the same time. And there is always a resonance of painter fathers – Marcus Weber is clearly enthralled by artists like James Ensor or Philip Guston.
The latter showed a paradigmatic change in his works at the end of the sixties, developing a narrative painting style influenced by comic artists like George Herriman and Bud Fischer but also by painters like Piero della Francesca or Giorgio de Chirico while staying true to his sophisticated, abstract expressionist brushwork.
Weber's work also shows, in its entirety, a disjointed, grotesque mixture. Marcus Weber is not unknown in Esslingen. In 2015 as the Bahnwärter-scholarship holder, he realized with Andreas Baur the thematic group show Better than de Kooning at Villa Merkel focusing on the deformation of the human body in contemporary painting as a derivative from comic books and caricatures.
---
March 25th 2018 – June 3rd, 2018
Hidden/Secret – Strategien des Verborgenen
Opening: Sunday, March 25th, 11 am
The focus of the exhibition project Hidden/Secret – Strategien des Verborgenen is on subversion as a strategy for social development and artistic processes. The conceptual point of departure for the group exhibition is a collaboration with the Iranian fim director Sina Ataeian Dena. It was only through subversive strategies that he was able to create his film Paradise (2015). The footage was shot without a governmental permit and partly under the smokescreen of a documentary film project. Moreover, a few scenes were filmed in a secret and to some extent – for example, with regard to the soundtrack – were reconstructed in Berlin. On the basis of the film, Sina Ataeian Dena developed an independent video installation and a series of photographs. Both were arranged with the Berlin artist Alec Barth.
A publication documenting the particular way the cinematic film was created will be published during the exhibition period; it contains various interviews with the participants as well as film- and art-theoretical texts on the theme.
Not only political repression induces artists to evade control by existing systems. The mecanisms and structures of the Internet, for example, are the focus of !Mediengruppe Bitnik. In their works, the two artists deliberately challenge the system of the Internet in order to expose hidden digital paths of communication and commerce, systems of surveillance and bot-controlled activities.
Francis Alÿs will be represented with a group of works created for the documenta 13 in Afghanistan. The four videos that will be shown draw direct attention to a country that is known to the Western observer only from war bulletins as a permanent trouble spot. Francis Alÿs conveys insights into an Afghanistan that lies hidden under media reports.
Curator: Anka Wenzel
With the support of Schweizer Kulturstiftung Pro Helvetia
---